Sincere manufacturing
Authentic techniques
Spirit of the metal blade
Pride for Honmetate (sharpening files by handcraft work)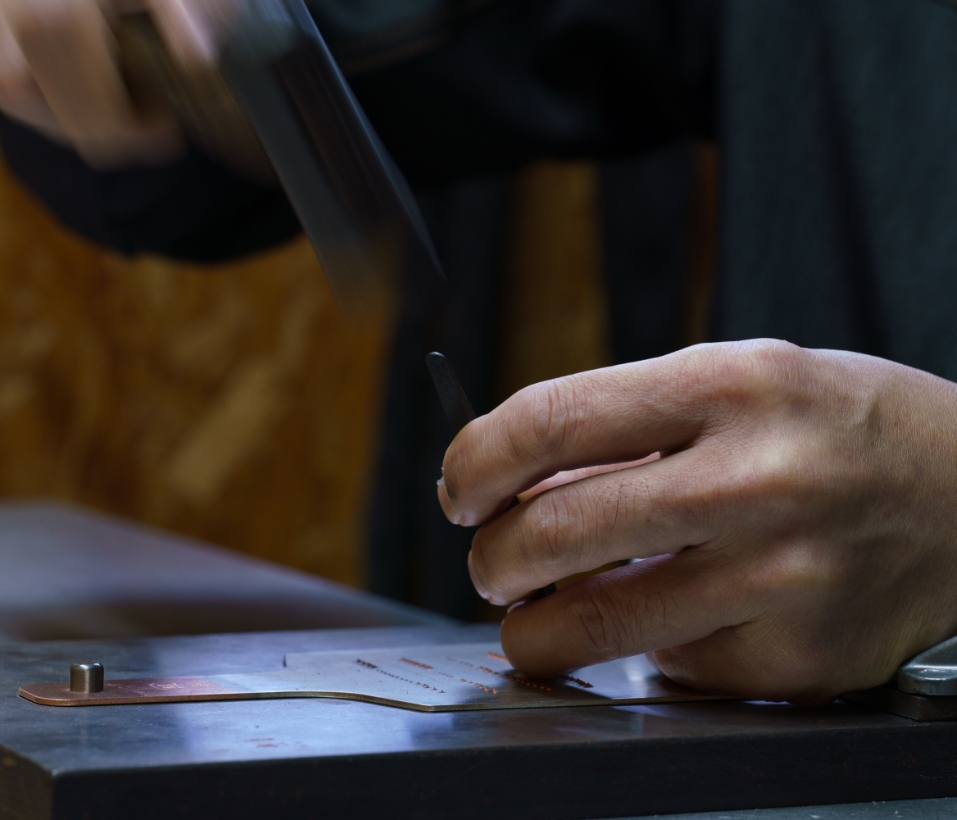 We practice Honmetate, which is the sharpening of blades one by one with a chisel. Through many trials, we managed to replicate the Honmetate techniques and accuracy through developing our original NC machine in cooperation with a machinery company.
Honmetate techniques, with sharp and complicated blade alignment play an important role to produce 「Tsuboe no Gokujo OROSHIGANE」.
Our best techniques for OROSHIGANE were born with these Honmetate techniques.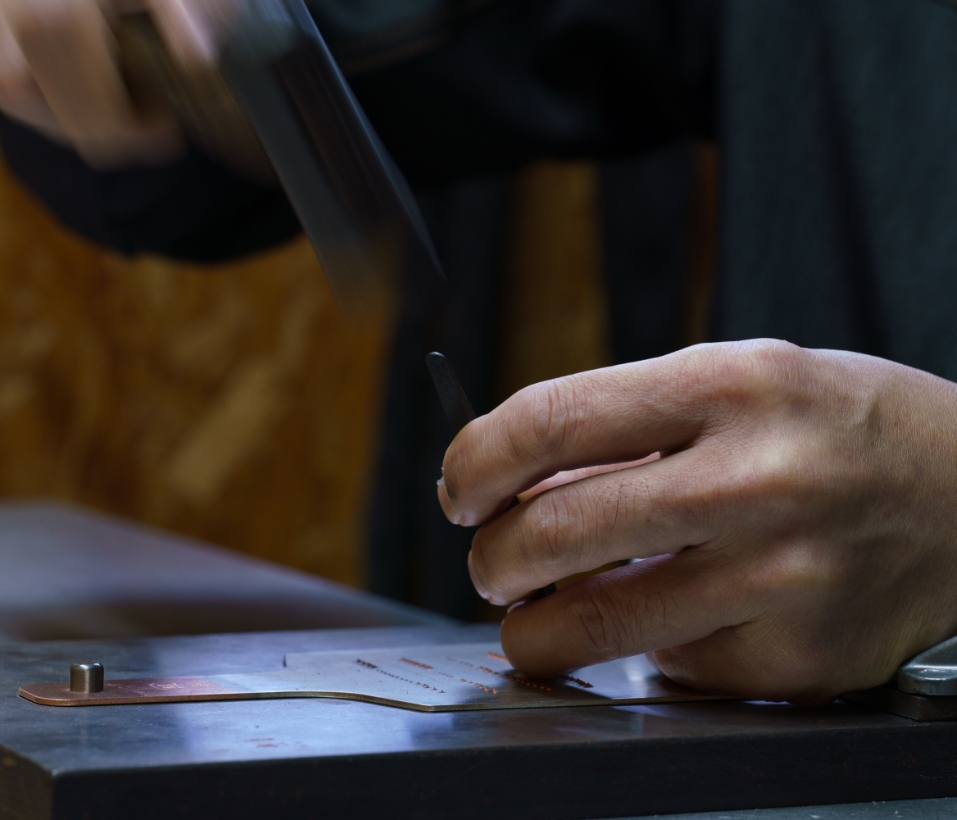 Pursuing to produce the finest OROSHIGANE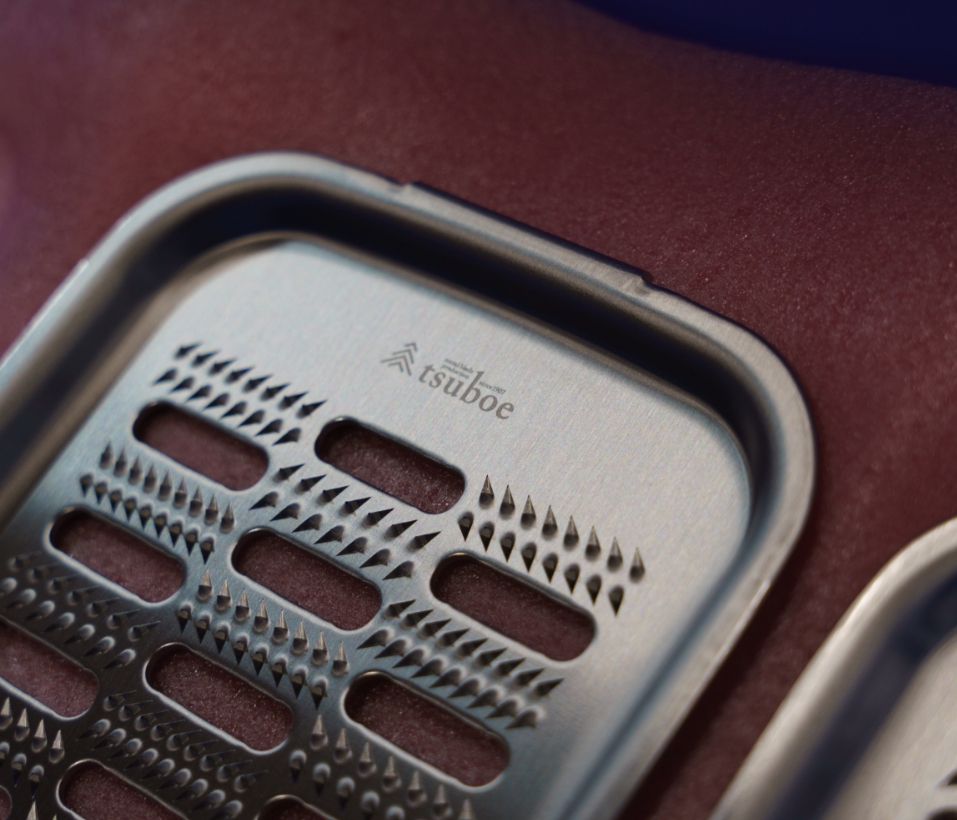 We want to pursue the best sharpness and comfort of use with our grater. This spirit is also expressed in the design and branding of the grater itself.
The three brands of "Tsuboe no Gokujo OROSHIGANE", "Tsuboe no SHIRO," and "irogami" are the result of generations of craftsmanship in pursuit of functional beauty. The best cutting ability is not achieved in a day. It is no exaggeration to say that "Tsuboe's top-quality grater is the crystallization of our sincere efforts in manufacturing.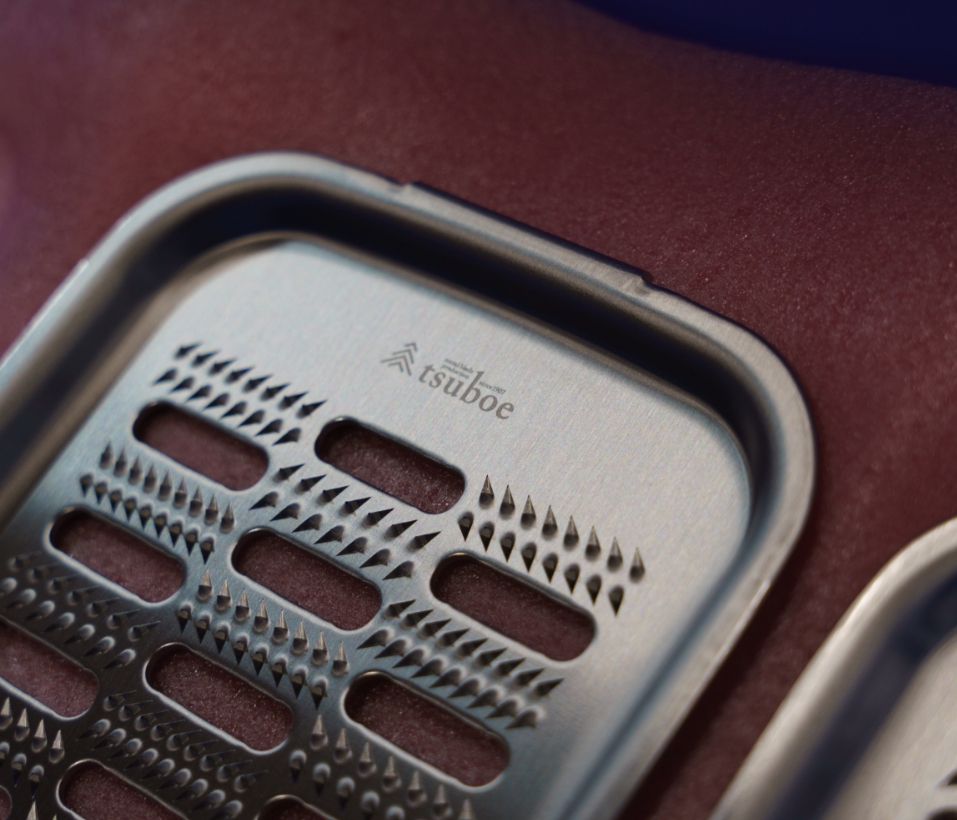 A new brand with stories in the past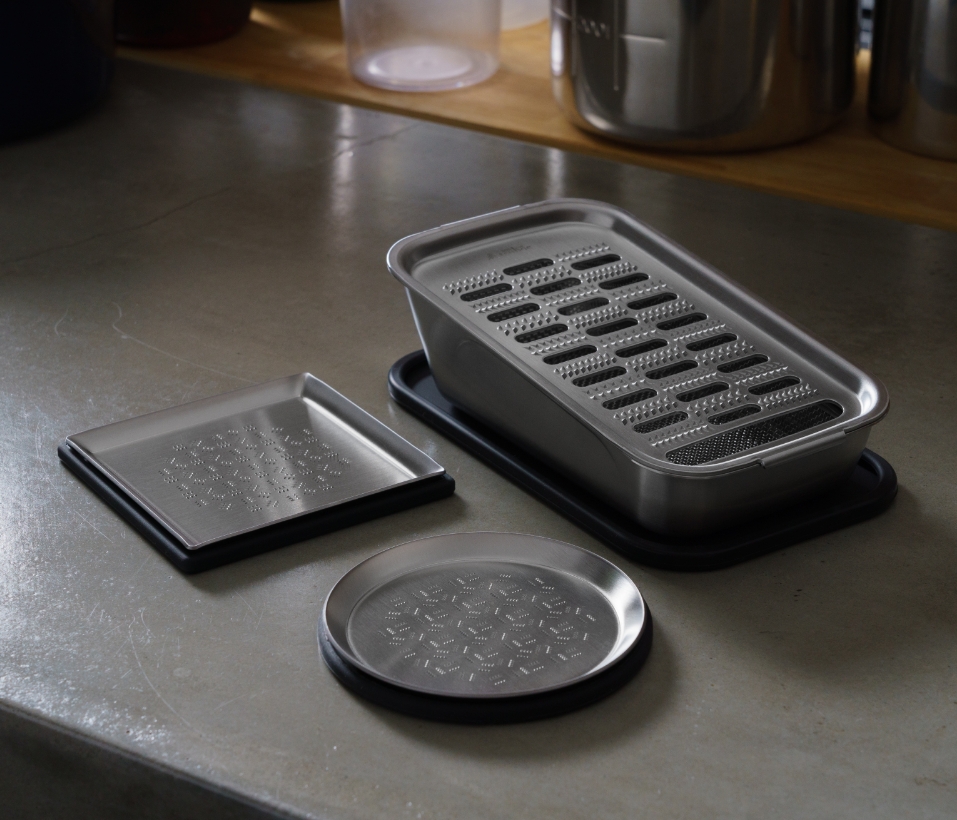 In order to continue our company for the next 100 or 200 years, we worked on branding for our original products.
The name 「Gokujou」 for 「Tsuboe no Gokujou OROSHIGANE」 reflects our confidence in our products with the history of OROSHIGANE and Honmetate techniques that we have devoted ourselves to. We hope this branding will showcase our strengths, so that we have enhanced branding in the design of packaging, sales and distribution.
The "Tsuboe no Gokujo OROSHIGANE," the "Tsuboe no SHIRO," have a focus on being graters that are more comfortable to use, while the colorful "irogami," adds a touch of color to the graters. All these have their own role and story to be conveyed.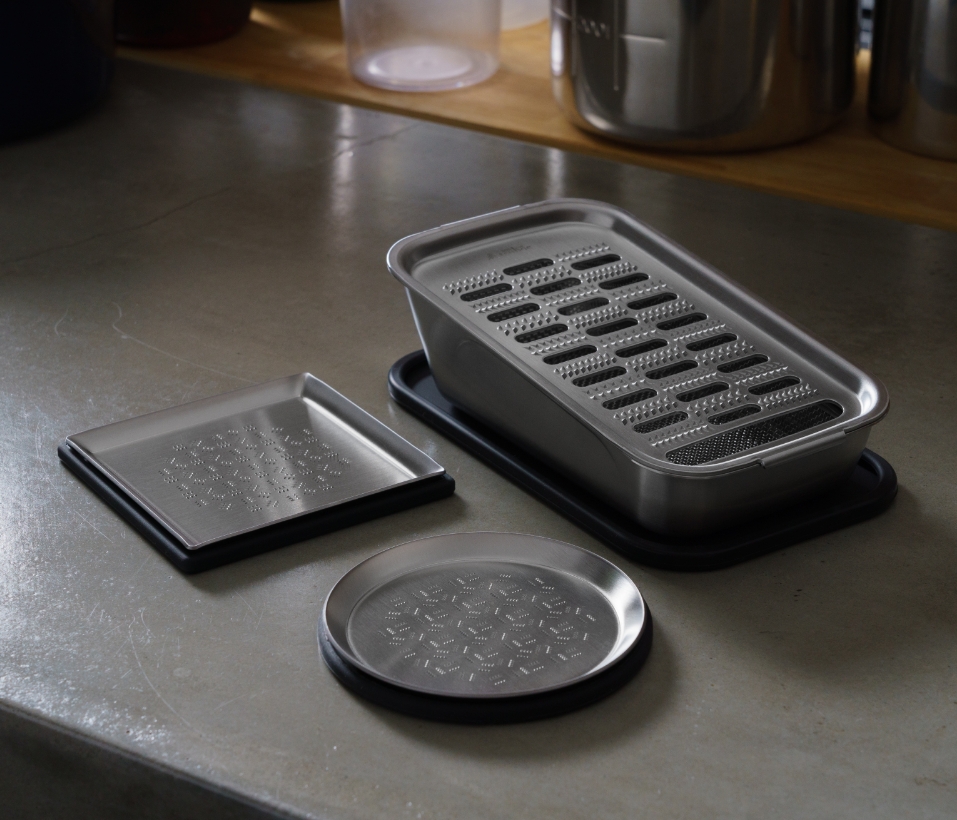 Work environment for output productivity and ideas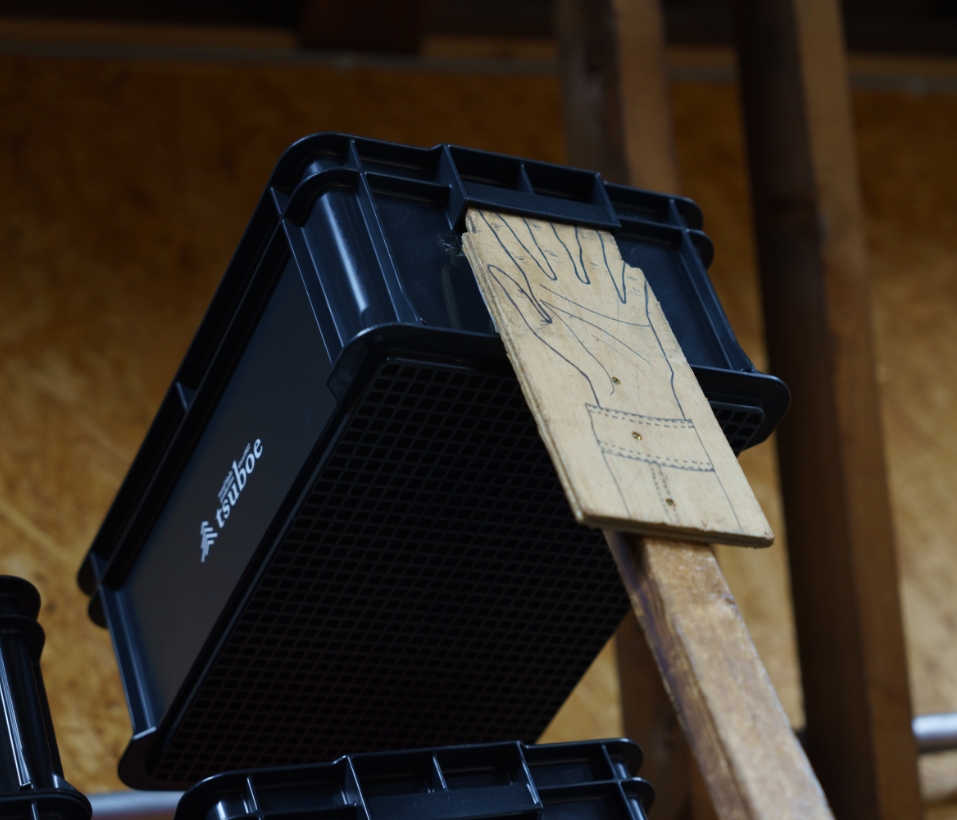 When it comes to producing a product, a well-designed work environment is required including carefulness and delicacy, and severe attention at final inspection.
For example, we introduce trolleys with caster wheels to reduce physical strain and waste of movement. By keeping the factory clean and tidy, we have improved the efficiency of our whole work.
A comfortable environment for everyone creates motivation and propagation of new ideas and is an important factor leading to brand establishment.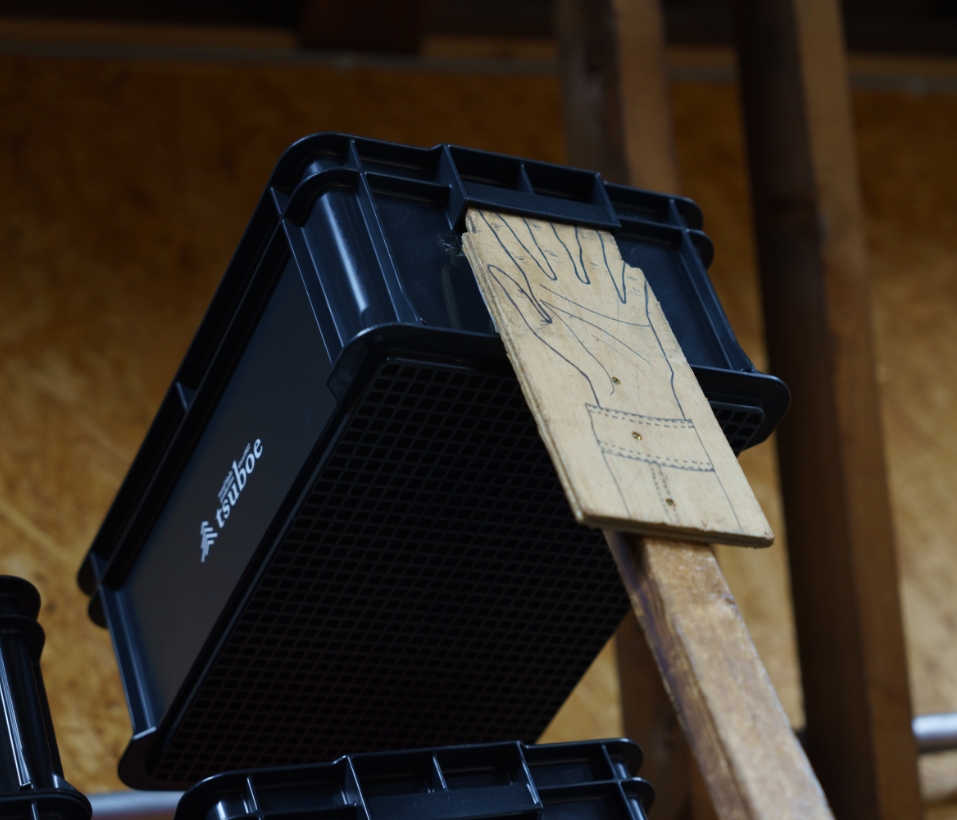 Ethical manufacturing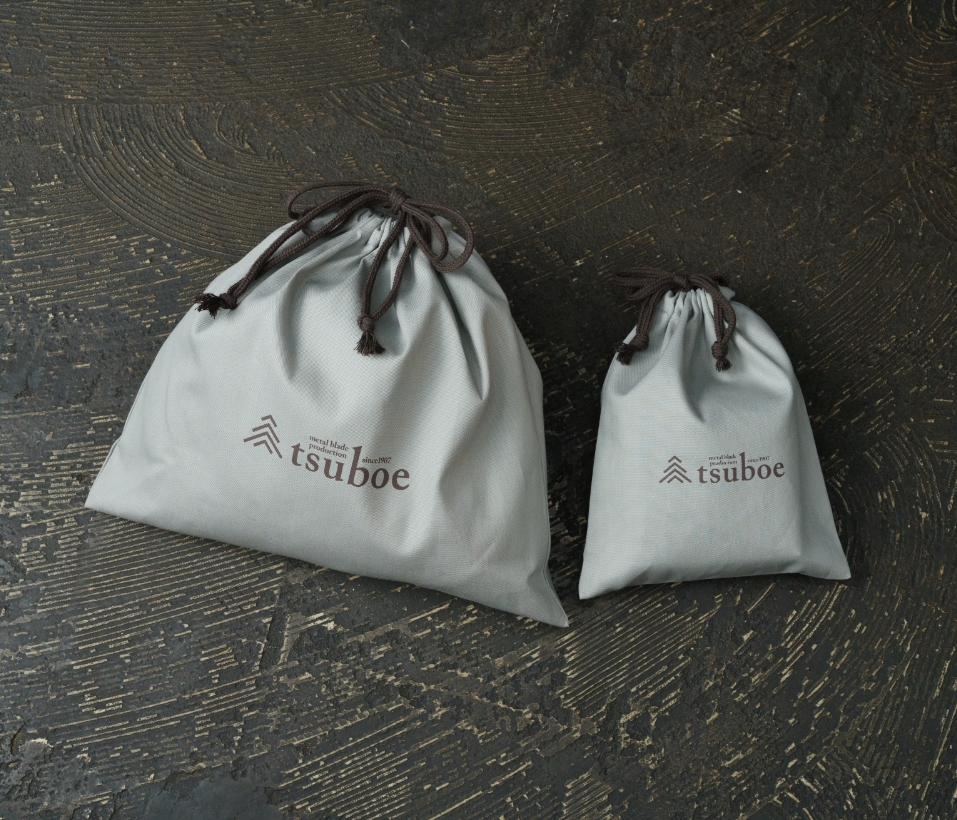 In recent years, we have been focusing on manufacturing that considers the conservation of the environment and society. We redesigned the packaging in order to eliminate excess wrapping for all Tsuboe original brands.
Concerned with the potential waste created by gift wrapping, we started to provide a service where customers can purchase recyclable cloth bags at the official online shop during checkout.
Furthermore, we gradually renew packaging to eliminate plastics, and carry out manufacturing that is conscious of the earth, society, and people.